Quality Certification
Quality Certification
We have ISO14001, TS16949, RoHS, SHARP-EYED Conflict Minerals certificates.
01
ISO 9001:2015
Follows the ISO9001 standard quality management system certification to show that products and services are controlled, and reduce the time and labor costs for customers and related stakeholders to repeatedly check quality and service.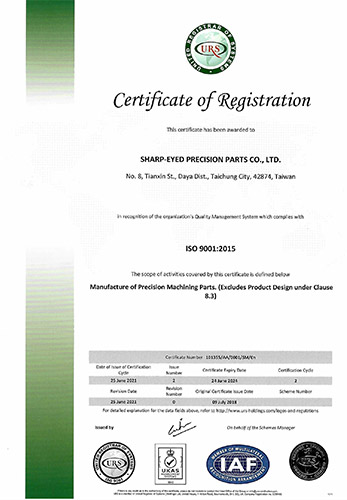 02
ISO 14001
In order to protect the environment, Sharp-eyed introduced ISO 14001 Environmental Management System into the company in 2007 and was determined to use only environmental protection-oriented approaches to produce CNC precision machining parts. Sharp-eyed promises to continue to improve environmental management performance, energy saving, waste reduction, and recycling.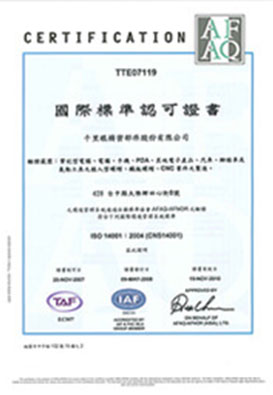 03
IATF16949 (Automotive Industry Certification)
According to International Organization for Standardization, IATF 16949:2009, in conjunction with ISO 9001:2008, defines the quality management system requirements for the design and development, production, and, when relevant, installation and service of automotive-related products.
The aim of the standard is to improve the system and process quality to increase customer satisfaction, to identify problems and risks in the production process and supply chain, to eliminate their causes and to examine and take corrective and preventive measures for their effectiveness.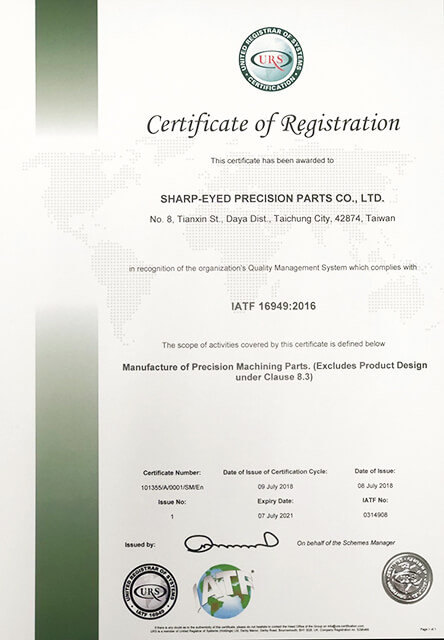 04
RoHS (Restriction of Hazardous Substances Directive)
The European Union announced the new RoHS Directive 2011/65/EU on July 1, 2011, which replaced Directive 2002/95/EC issued in 2000. The RoHS Directive restricts the use of lead and other hazardous substances in motors and electronic products. Its purpose is to restrict the use of six substances in electrical and electronic products, lead, mercury, cadmium, hexavalent chromium and halogenated flame retardants (PBB and PBDE) to protect the safety and health of humans and the environment.
The European Union officially announced an amendment directive ((EU) 2015/863) on June 4, 2015. This directive adds 4 phthalates to the RoHS directive (2011/65/EU): Di(2-ethylhexyl) phthalate (DEHP), butyl benzyl phthalate (BBP), dibutyl phthalate (DBP), diisobutyl phthalate (DIBP)
In order to reduce the damage to the earth and meet the needs of customers, the precision parts produced by Sharp-eyed Co. can meet the EU RoHS regulations and can provide various related inspection reports.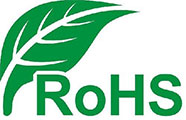 10 prohibited substances
Lead and its compounds

Sharp-eyed Co. XR acceptance criteria≦700ppm
Applicable RoHS exclusion clause
Steel <3500ppm
Aluminum alloy <4000ppm
Copper alloy <40000ppm
Refer to RoHS specification for other surface treatments

Cadmium and its compounds
<100ppm
Sharp-eyed Co. XRF Acceptance criteria≦50ppm
Mercury and its compounds
Banned
Hexavalent chromium and its compounds
Metal parts with coating : ND
Polybrominated biphenyls PBBs
Banned
Polybrominated diphenyl ether PBDEs (including decabromodiphenyl ether)
Banned
Bis(2-ethylhexyl) phthalate(DEHP)
Banned
Butyl Benzyl Phthalate (BBP)
Banned
Dibutyl phthalate (DBP)
Banned
Diisobutyl phthalate (DIBP)
Banned